Rexroth Hydraulic Filter R928005748 1.0120PWR20XL-A00-0-M

In the hydraulic system, it is used to filter out solid particles and colloidal substances in the working medium, effectively controlling the pollution degree of the working medium. This series of Rexroth filter elements are developed by LEFILTER to solve the defects of high price and long supply cycle of the original filter elements. They can replace the original pall filter elements after being localized for imported equipment.
Performance characteristics:
1. Directly swap with the matched filter element;
2. Strict quality management system ensures the size error of filter element in length, diameter and sealing surface;
3. The filtering efficiency of LEFILTER replacement Rexroth filter element is equal to or higher than that of the original filter element;
4. Anti-corrosion cap end and fully bonded structure ensure the maximum strength;
5. Meets all ISO standards for manufacturing and testing;
6. Cost-effective selection of the whole system and high-quality filter materials;
7. Filter material compatibility is suitable for filtering most hydraulic oil and lubricating oil;
8.The price is competitive.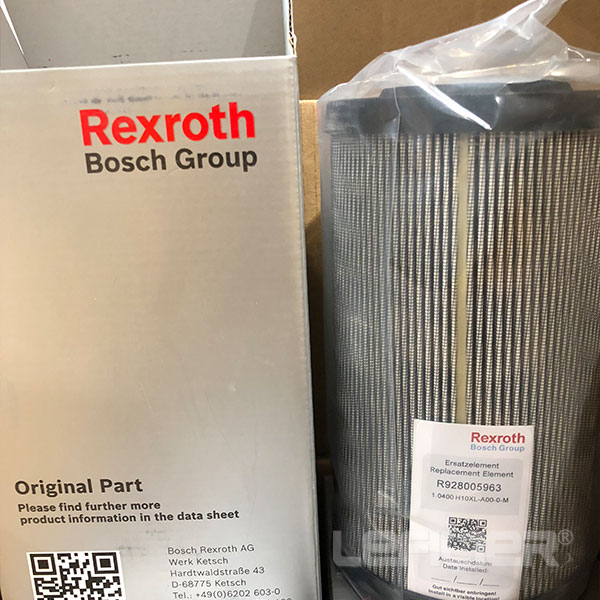 More filter element number :
R928037343
2.0040H10XL-A00-0-M
2.0250H10XL-A00-0-M
2.0100H10XL-A00-0-M
2.0630H10XL-A00-0-M
2.0100H10XL-B00-0-M
2.0250G25-A00-0-M
1.1000G60-A00-0-M
1.1000H20XL-A00-0-M
1.0063?H10XL-A00-0-M
2.0059H6XLA006M
2.0004?625-AEZ-0-V
2.0020G25A00
2.0063H10
2.0030?H20SL-B00-0-P5
1.0200H20XL-AH0-
R928005959
R928006755
R928006809
R928027889
R92801740
R928007098?2.0059?H20XL-A00-0-M
R902603243?62.0125K?H20XL-J00-0-V
R902603298
R928017245
R928017145
R928017244
R928005963 1.0400H10XL-A00-0M
R928005873;1.0100H10XL-A00-0-M
R928005927;1.0250H10XL-A00-0-M
R928005891;1.160-H10XL-A00-0-M
R928005963;1.0400H10XL-A00-0M
R928047456;1.0630?G60-A00-0M
R928048072;1.0400?G60-A00-0M
17.450G60-H00-0-M
R928022276
R928006647
R928006809
R928006862
R928007025
R928006917
R928006862
R928006970
R928006737
R928006953
2.0063h10XL-B00-0-M R928007008
R928006818
R928006916
20015 H10XL-B00-0-V
18.140 H10XL-D00-0-M R928022784
R928045061 1.0045A56-A00-0-M
R928018006
17.210 G40-G00-5-M R928018009
R939004087
R928017309
R928005818
9.330LAPWR10-AOO-O-M-SO3000
1.0045H3XL-A00-0-M
R928005637
1.0120 H20XL-A00-0-M
R928027889 1.0270CH10XL-A00-0-V
2.0160H10XL-B00-0-M R928006818
1.0200H20XL-A00-0-M
R928005802
R928027887
1.0250H6XL-A00-0-M
R928034641


Application:
Hydraulic Support - Hydraulic Lift System, Mining Mobile Equipment
Injection Molding Machine - Hydraulic Drive System
Pulp and paper mills
Petrochemical Industry - Hydrocarbon Processing
Chemical Industry - Chemical Treatment
Power Generation - Wind Power Hydraulics
Iron and steel and heavy metal smelting - Blast furnace ironmaking hydraulic system
Pharmaceutical - Power Control System

Quality Assurance:
1. Best raw materials, best technology.
2. Our products are produced strictly in accordance with the requirements, and there are special personnel for test before leaving the factory.
3. High efficiency and high precision to ensure the equipment safety.
4. If there are any quality problems, we will do it again for free.


More information welcome contact email sales09@lefilter.com
Whatsapp/we chat :0086-16650378553